HOME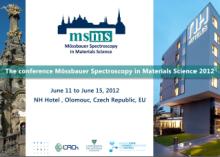 The conference Mössbauer Spectroscopy in Materials Science 2012 is organized by NH CONGRESS OLOMOUC (http://www.nh-olomouc.cz/en/).
Scientific content of the conference is guaranteed by the Regional Centre of Advanced Technologies and Materials (www.rcptm.com), Palacký University, Olomouc, Czech Republic.
The conference is supported by:

IPM ASCR
Brno, Czech Republic
http://www.ipm.cz/

Institute of Nuclear and Physical Engineering
Faculty of Electrical Engineering and Information Technology (FEI)
Slovak University of Technology,
Bratislava, Slovakia
http://www.fei.stuba.sk/

Institute of Inorganic Chemistry AS CR, v.v.i.
Academy of Science, Czech Republic
http://www.iic.cas.cz/index2.php
Topics are:
Nanomaterials, nanostructures, nanocomposites, core-shell nanoparticles, thin films
Nanomaterials in biomedicine
Magnetism, magnetic nanoparticles, molecular magnets
Solid-state chemistry and physics
Environmental, catalytic, biologic, medical applications
Earth Science, Mineralogy and Archaeology
Industrial applications, corrosion
Nuclear forward scattering in materials science
Instrumentation, software

Proceedings to be published by American Physical Society: American Institute of Physics and will be indexed by Thomson Reuters - Web of Science.
The conference fee is 14 000 CZK (in CZK currency), the deadline for payment is March 31, 2012
Conference fee for students (including PhD students) is 8 000 CZK.
Conference fee includes:
accommodation
full board
publication of papers in American Institute of Physics
record in database Thomson Reuters - Web of Science.
scientific and technical guarantee
accompanying program
---